All You Need to Know About Bubble Tea Shop Renovation in Toronto
In recent years, more and more bubble tea shops have opened in Toronto. Statistics show that a small plaza in the GTA could house anywhere between 10 and 15 beverage stores. Many are owned by young entrepreneurs between the ages of 20 and 30.
This trend could be attributed to the fact that many people feel that running a bubble tea shop is an easy yet highly profitable business. If you are lucky enough to own a franchise of an established brand, you can start your business under the leadership of a professional team, which not only reduces expenses but also risks.
However, is it really that easy to open a beverage shop in Toronto? Let's take a look at some recent trends to find out.
Nowadays, the internal space of beverage or dessert stores is generally quite small, often around 600 sq.ft. That raises some questions:
How can you effectively organize such a small space to organize components of a fully functioning store in a cost-effective yet aesthetically pleasing manner?
How can you stand out in a competitive market and build a loyal customer base?
First Step, you need to design and renovate said store to fit your needs. JY Construction can help you throughout the entire process. After reading this article, you, too, can become a professional in renovating a bubble tea shot.
Create a unique renovation style that fits your brand
Logo design is especially crucial to the branding of a consumer-focused business, and that's no different here. All large brands have focused efforts on logos and design packages to help them stand out amongst competitors and attract fresh clients.
When designing your brand, a few things to keep in mind are:
Market position
Target audience
Brand visual identity
After completing market research and analysis, now it's time to define the style of the renovation based on the preferences of your target demographic. For example:
CoCo Fresh Tea & Juice
Sunny, energetic, modern, and stylish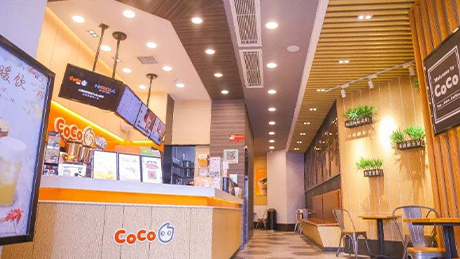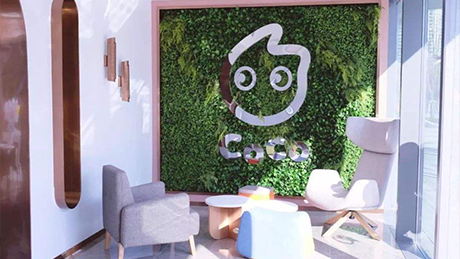 (Online source)
Yifang Bubble Tea
Traditional, classic, and rustic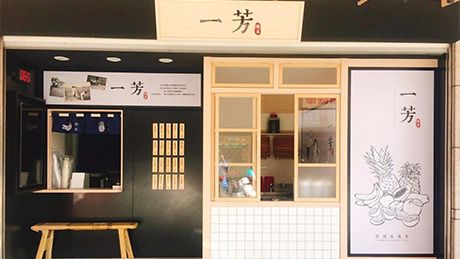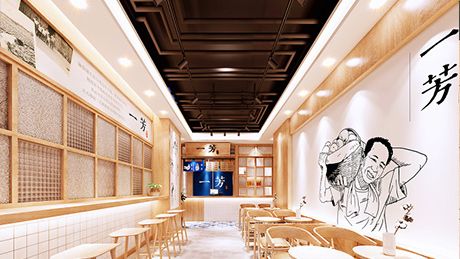 (Online source)
Machi Machi
Simple and minimalist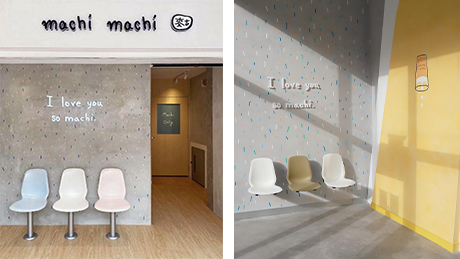 (Online source)
Hey Tea
Hey Tea's branding is about originality and innovation so that every store comes with a unique style. Each branch's design finds inspiration in the location of the store itself as well as the culture of the city. In the renovation industry, Hey Tea is jokingly regarded as more of a design agency than a bubble tea store.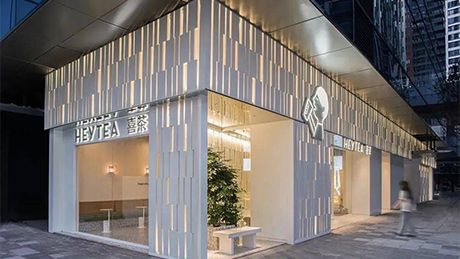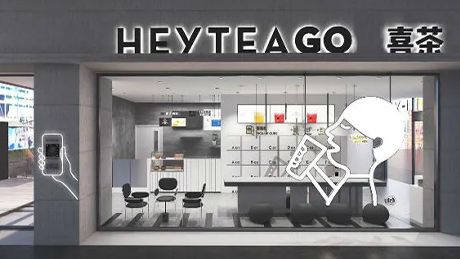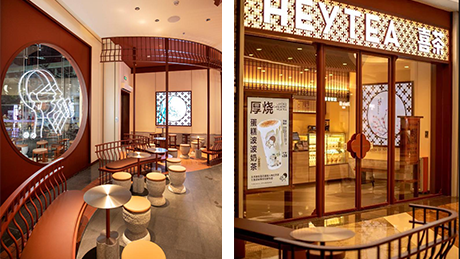 (Online source)
Joy Tea (JY Construction)
A Hong Kong-style drink shop was created by Hong Kong comedian Eric Tsang and 40-year tea master Yecong Jia. It aims to showcase a young and joyful lifestyle, dedicated to evolving traditional Hong Kong beverages and exploring their potential. Joy Tea adopted "retro Hong Kong style" and "trendy traditional fashion" as its design direction. Green and orange were used as the main colors and walls are decorated with vintage Hong Kong tiles. We hoped to recreate the childhood nostalgia of Golden Age Hong Kong films at each location.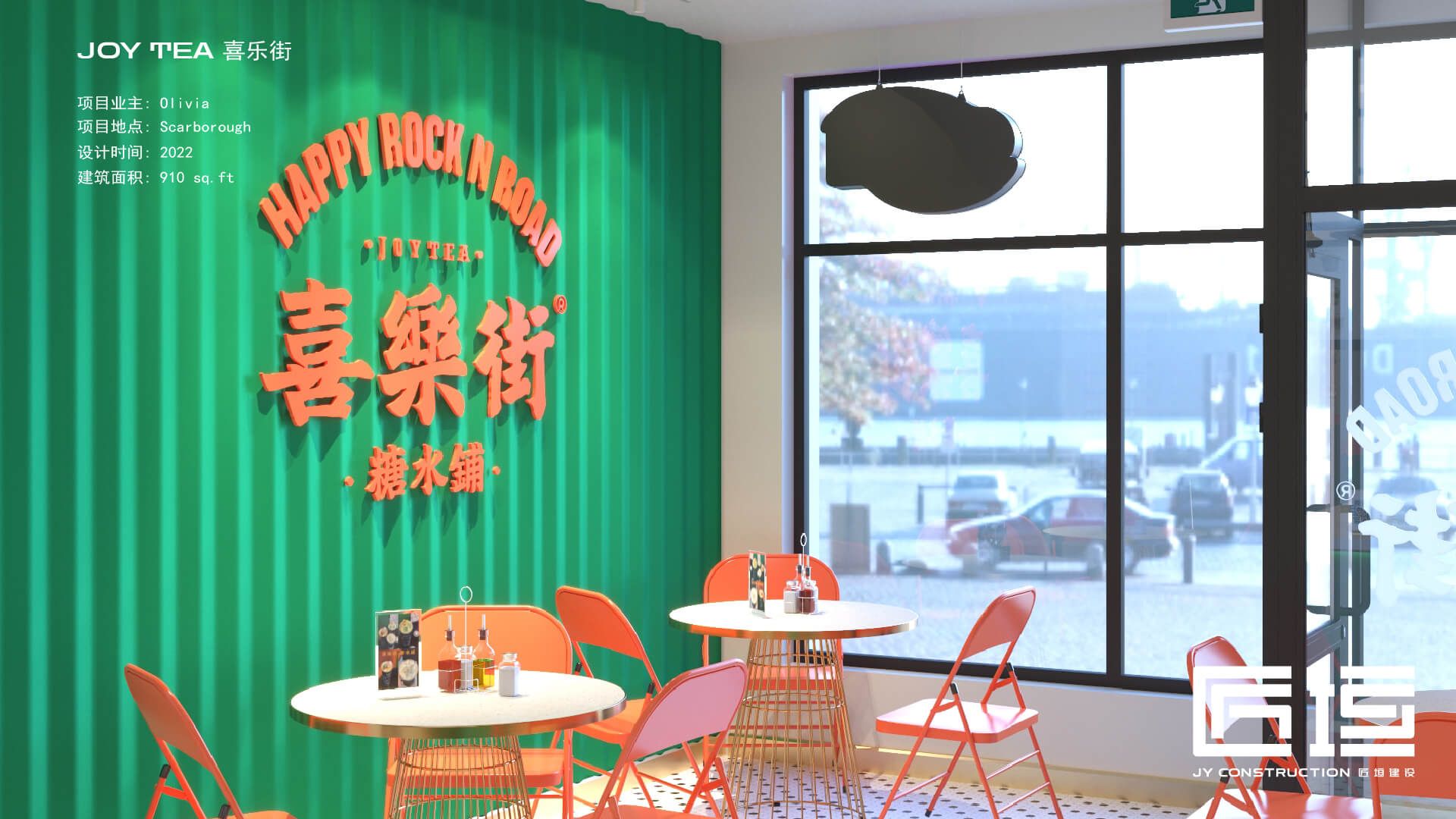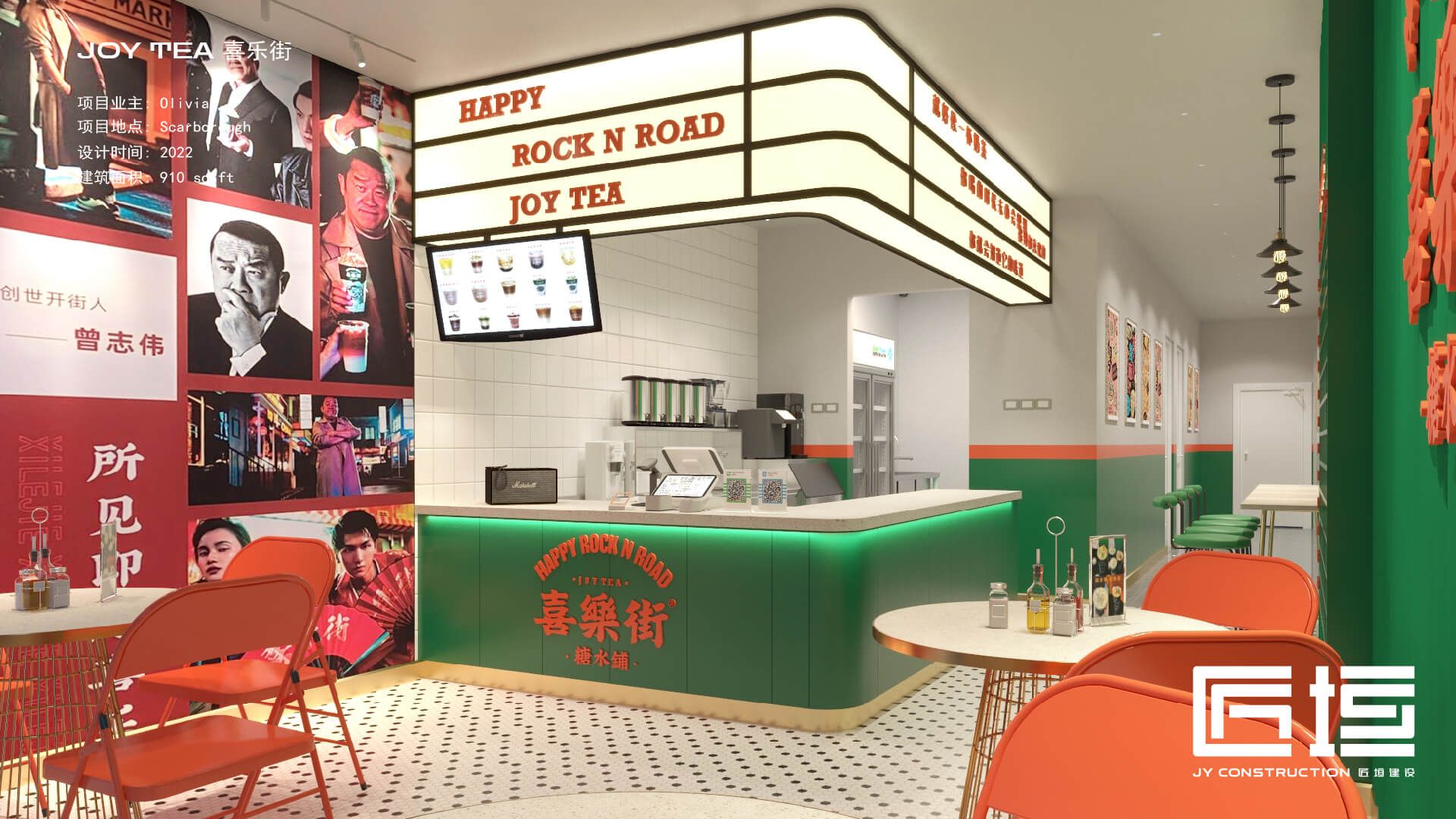 We used a simple yet textured curved bar table and a lightbox with a bright backing and soft lights to mimic old cinema signage. The retro Hong Kong interior has attracted many young customers solely for its Instagrammable setting.
Focus on functional layout
How do we create a reasonable store layout with very limited space? To be honest, it's extremely difficult to effectively utilize the space without professional knowledge.
Bubble tea shops are generally organized with the "golden triangle" in mind: the operation area, the seating area, and the production area. To be more precise, division areas include:
Order area
Pick up area
Delivery and self-pickup area
Dine-in area
Photo-taking area
Production area
Pre-processing area
Storage area
In order to avoid costly space reassignments, the owners must be clear about their product line and production process before designing. Furthermore, they must effectively communicate their needs to designers in order to ensure the needs both employees and customers are met.
A key factor to consider is the manufacturing process behind the bar. The first step is to clarify the position of appliances, such as the sink, refrigerators, display cabinets, ice makers, water boiler, water treatment, freezer, coffee machine, cup sealer, etc. This equipment is the core of the bubble tea shop and its proper arrangement is crucial to effective space design.
A rookie mistake when it comes to renovation design is only considering the appearance and aesthetics of the shop, and not paying enough attention to workflow and process. The design needs to be not only beautiful but logical and effective.
Real Fruit( Designed by JY Construction )
JY Construction takes practical design very seriously; maximizing the use of limited space, integrating functional aesthetics into every detail, and creating the most logical and humanized layout. Our professional design team pays special attention to layout blueprints and concept drawings, and has more than 10 years of experience in applying for government approvals and permits, granting us a solid foundation to ensure flawless execution.
Eye-catching signage will make your store stand out
Eye-catching signage is important to create a good first impression. The highlights the characteristics of the brand. Some store owners blindly pursue mystery, with signboards and store names that do not clearly reflect their product offerings. The result is customer confusion, resulting in the loss of potential business.
Sign material
Popular materials for store signage include:
Aluminum composite panel
Light cloth film
Stainless steel
Neon letters
Acrylic
Spray cloth
Additionally, material selection must consider cost effectiveness while maintaining the atmosphere of the location.
Sign Color
As with branding in general, don't make things too complicated. Different colors will evoke different emotions, but try not to use more than 1-3 colors.
Sign Shape
Signs are most commonly rectangular in shape. However, with the increase of competitiveness, more variety is showing up in the market. Think outside the box; fully explore your creative side and weigh your options carefully. Fonts are also important! Pay attention to the typography weight, style, kerning, leading, etc.
Drainage Pipe Layout
An often-overlooked aspect of renovation is the drainage system. If you're not careful with the drainage pipe layout during renovation, they could get clogged. This often affects not only your business but also the neighbors. Needless to say, pipe repair fees are unnecessary expenditures you don't want to face.
The ingredients that go into milk tea beverages include cream, sugar, tapioca, and other coagulating materials. Certain drinks, if not handled properly and disposed of directly into the drain, can cause residue buildup that slows, or even completely prevents, drainage.
How can I effectively prevent the problem of clogging and leaking pipes?
Choose a professional renovation company.
Pay attention to the layout of pipes and install grease traps during the renovation process.
Develop good operating habits among store staff.
Avoid pouring greasy materials directly into the sewer pipe.
Pay attention to the classification of garbage, and pour the waste that will not be dissolved by liquid in the short term into the garbage can.
Do not pour hot water directly into the pipes!
If the store is in a shopping district, building managers will typically conduct routine unclogging.
JY Construction
All of the above are non-issues if you select a professional commercial renovation company like JYC. We can help you find the balance of function and aesthetics that'll keep your business operate at top capacity. We work with our clients to provide the most suitable plan to attract their target audience. Please don't hesitate to contact us if you have any renovation needs or questions.
#JY Construction Design
# commercial construction design
# Toronto construction design
# Toronto renovation
# Toronto milk tea store design
# milk tea store renovation design
# beverage store design
# lighting design
# wall design
# layout design
# milk tea store facade design
# concierge design