Reasons you need a project manager during commercial constructions and renovation (I)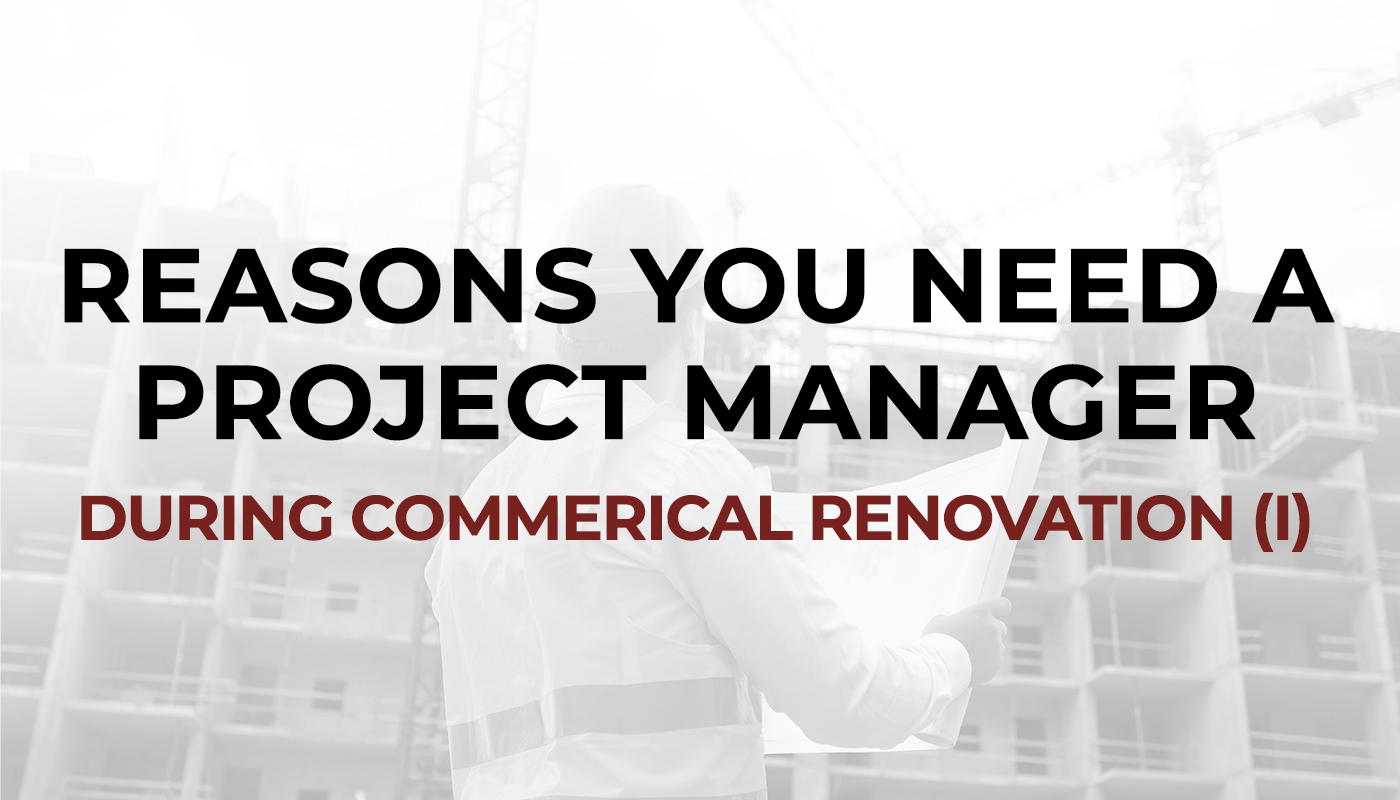 To ensure that an architectural renovation is both properly designed and pleasing to the mind, yet meets or exceeds expectations, it is critical to have a professional PM (Project Manager) to follow and manage the entire renovation project. A responsible and professional Project Manager can not only help the client to follow the whole project and implement the design on the plan, but also check if there are any non-conforming parts before the construction is executed, so that the construction will not have to be demolished and rebuilt afterwards.
In the article below, we will explain the importance of a project manager throughout the renovation process. Whether in Toronto or elsewhere in Canada, it is a good idea to have a project manager to oversee the entire renovation process from start to finish for owners of a store, office, or home renovation.

Pre-Project
1. Provide as accurate a price estimate as possible
Every homeowner wants to know the most accurate information possible, whether it's a budget, workload, or completion date. However, before the Building Permit is issued, the construction team can only estimate an approximate cost based on the interior design drawings that will be created on site, as the approved construction drawings are likely to be revised by the government. An experienced and professional project manager can not only minimize the possibility of reworking the plans, but can also estimate the actual cost as close as possible, giving the owner a better grasp of the actual situation.
2. Be the communication link for the whole renovation project
The project manager will be in charge of controlling the quality and progress of the entire project, which will require cooperation with the renovation team and external communication.
A reliable renovation team is an essence of commercial renovation - a good renovation team is not only experienced to ensure the quality of construction, but also needs to be a qualified team so that the risk of reworking due to quality issues can be reduced. For example, a $5 million commercial insurance policy and WSIB (Workplace Safety and Insurance Board) should be standard for the team. The renovation team will add the address of the upcoming project to their business insurance before the project starts, which can double insure against any unexpected situations.
Moreover, each industry has its own characteristics, and different types of industries have different requirements for renovation - for example, if you divide by type of unit, it can be divided into rough house renovation, remodeling, plaza, high-rise building, mall, etc.; or if you take the type of business, it can be divided into hotel, restaurant, office, medical clinic, and more. A reliable project supervisor will help the owner find an experienced renovation team to work with and help you avoid trouble in an effective and timely manner.

In addition to communicating with the in-house design and renovation construction teams, a commercial renovation or restaurant renovation project also requires coordination and communication with relevant government departments and management agencies. For example, most Plaza and High-rise buildings (office buildings or condominiums) have a management company that handles building-related issues (such as plumbing, electrical, and renovation) for each unit, so it is not only necessary to confirm with the management company whether the construction drawings can be executed before proceeding with the project, but also whether it is necessary to hire an outsourced construction team appointed by the management agency. Not only do you need to confirm with the management company whether the construction plans can be executed and whether you need to hire an outsourced construction team, but you also need to obtain the management agency's permission for each step of the office or residential renovation.
The pre-project preparation is tedious and requires a lot of time and effort, and if something goes wrong at any point, the whole project will come to a halt, causing great inconvenience to the owner. Therefore, having a professional project manager and renovation team can save you a lot of trouble.
We also have a professional team with integrated design and construction, which works closely with each other to provide the most suitable, professional and systematic renovation plan for the owners in Toronto, so that you can feel more comfortable and relieved.
#Construction
# Construction Design
# Commercial Construction
# Construction Team
# Design Team
# Commercial Renovation
# Retail Store Design
# Restaurant Renovation
# Restaurant Design