Restaurant Project | Chinese Rice Noodle Restaurant in Waterloo
Client: Yunshang Rice Noodle
Location: Waterloo
Design: 2021
Construction & Renovation: 2021
Construction Area: 2730 sq.ft.
For a restaurant project, what we want to achieve is that from the first moment people step into the restaurant, they know they are not only going to enjoy great food but also will fall in love with the ambiance.
The restaurant's name is called "Yunshang Rice Noodle". The word "Yun (云)" means "cloud" in Chinese, which is a symbol of nature and a state of life. In traditional Chinese culture, there are countless masterpieces of landscape paintings about clouds, mist, and fog. The designer implemented this concept across the whole project, and cloud has been used as the main feature of the ceiling to generate an image of oriental sophistication.
Another crucial aspect is the use of colours. It's essential to maintain harmony in a space. Still, also we need to make sure that our client can stand out from the fierce competition in the restaurant industry through sophisticated design. After considering local target customers' demographic and the client's brand image, we decided to use red and yellow to create a bright, inviting atmosphere, as these two colours usually remind us of the source of life, warmth, and vitality. While bold colours work best when they have something to play off, and that's why we chose grey and white as the complementary hues to strike a balance. These hues provide a space for the eye to take a respite from the bold colours.
The overall interior is elegant, with clean lines and spaces. As soon as you enter the area, the classic red colour and wall graphics give you a warm welcome. Using a postmodernism design language, the designer created an oriental style inseparably connected with Chinese culture. Solid brick walls, cloud ceilings, furniture, and other decorations define the aesthetics of the venue, together with the contrasting and bold colours manifest the unique character of the place.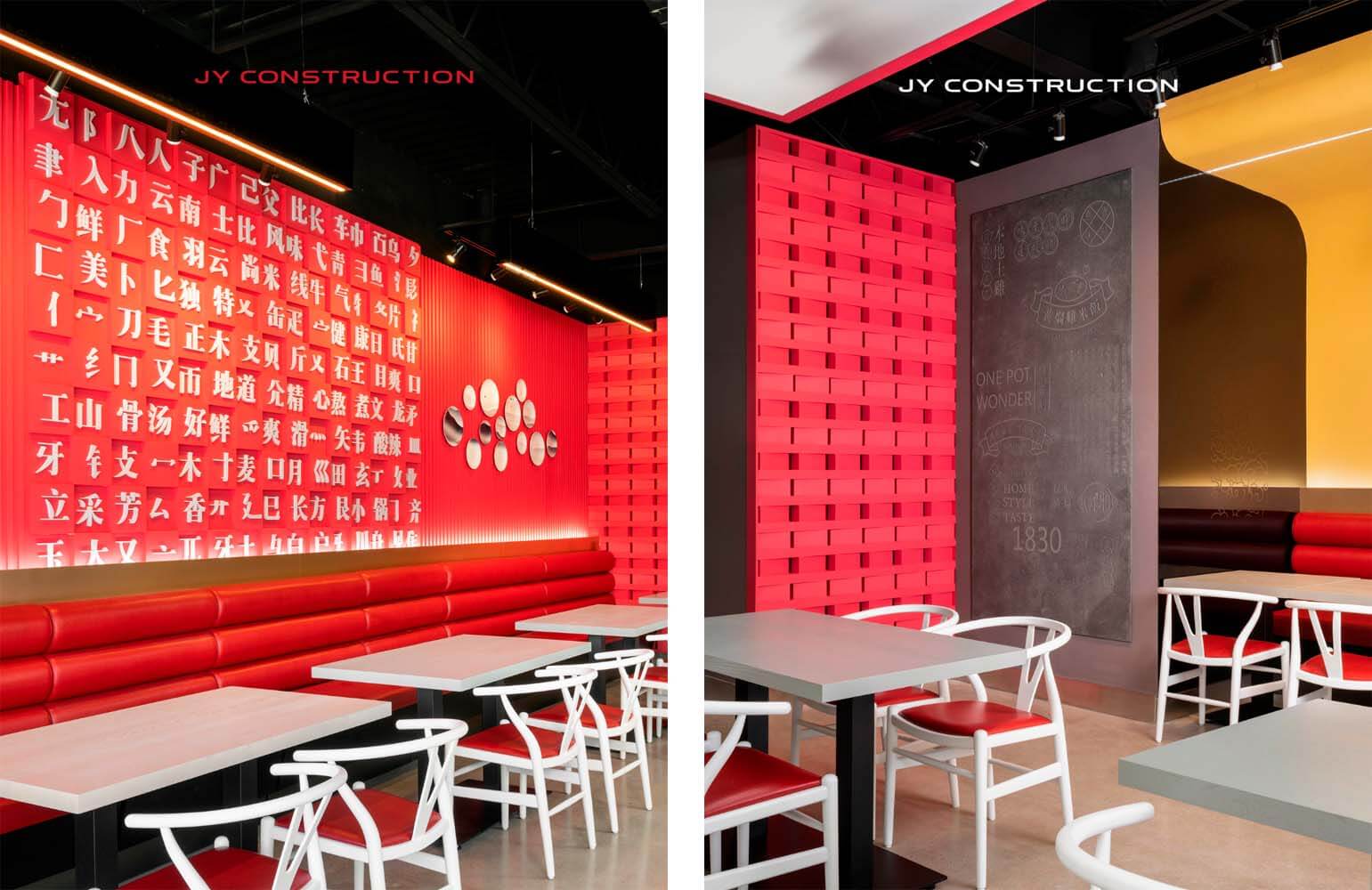 Language is a part of culture and plays a significant role in it. Designing with the Hanzi (Chinese characters) script is another highlight of this project. In Chinese language, each character carries profound meaning and heritage. Strokes are the most fundamental building block of Chinese characters. The designer disassembled selected Chinese characters into strokes, using them as graphical and symbolic icons. The design style is unsurprisingly noted for its zen-like aesthetic and simplicity - it's about clean lines and the character of shape.
Once you enter the restaurant, you will find yourself standing under a large-scaled Chinese ink smudge painting. Cloud and fog are the main features of the ceiling light, as well as the wall porcelain plate decorations, which creates an image of oriental sophistication. The golden Chinese lotus leaf lamps also add a hint of vibrant colour. By incorporating these mesmerizing elements into the restaurant design, the interior instantly evokes an image of serenity and tranquil calm while keeping a fresh, contemporary vibe.
The way we design the interior and how we place all elements is a very important part of how well a restaurant operates. From the user's point of view, the layout design needs to be functional, practical, and convenient. For this project, we spent a lot of effort on creating a successful floor plan based on how it directs movement. We need to consider all possible routes of both customers and employees, including where deliveries will be shipped in, how chefs move from pantry to food prep, how servers pick up orders and bring them to the tables, and varying levels of comfort and privacy. The layout of the dining area in the front hall is perfectly symmetrical, which helps the designer to establish a balanced distribution of visual weight. We also tried to utilize every inch of the shared room in order to increase flexibility, making sure the dining area can be flexible enough to adapt to unexpected demands.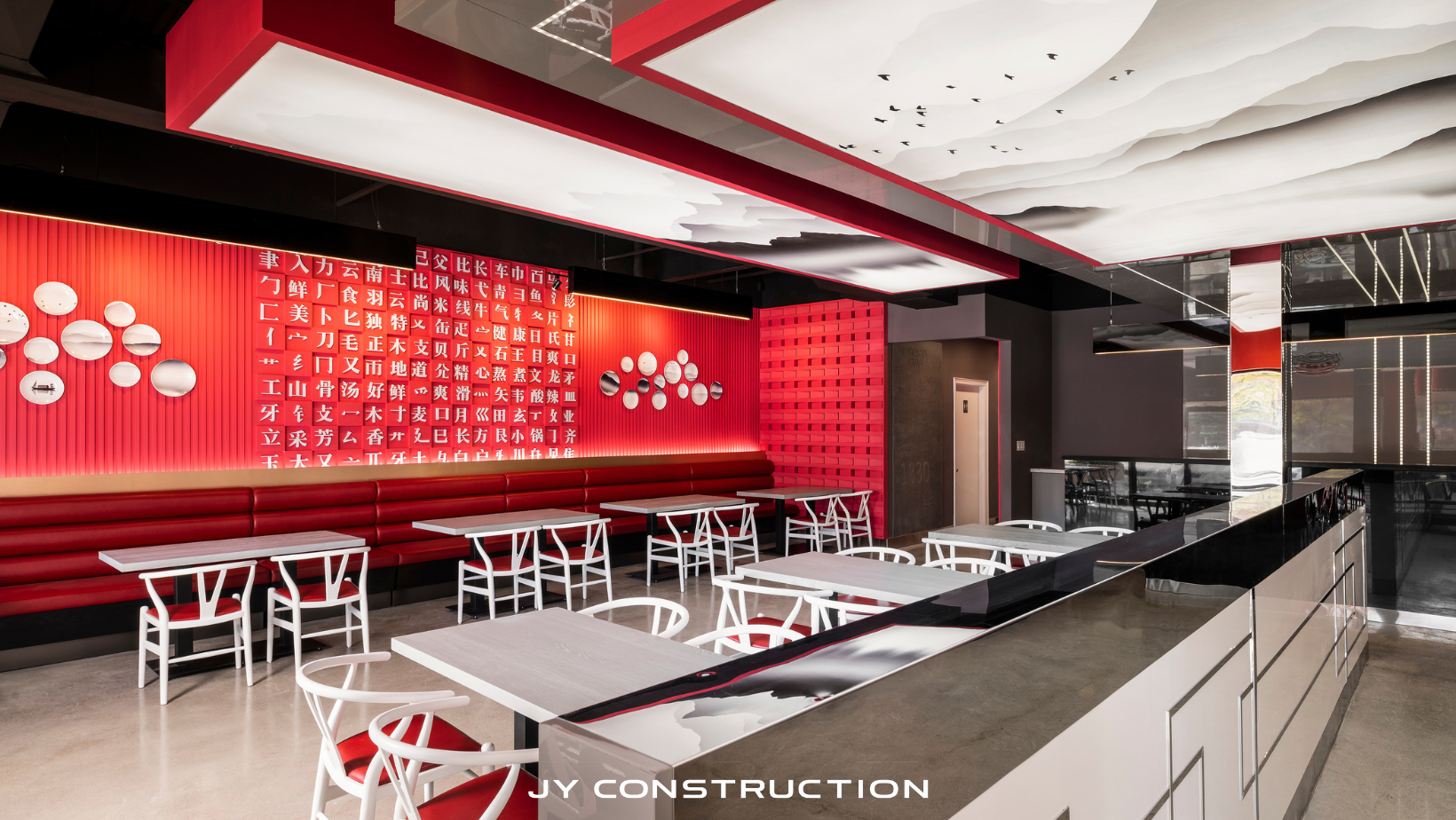 #Restaurant Project
# Yunshang Rice Noodle
# Interior Design
# Commercial Renovation
# JY Construction
# Toronto Construction
# Waterloo