Smart Design for Small Space: 5 Tips to Make Your Store Looks Bigger
The trend of entrepreneurship is rapidly growing, with more and more individuals setting up their own small businesses, such as coffee shops, bubble tea parlors, dessert boutiques, beauty salons, and pet supply stores. However, with rental prices on the rise, even starting a small business can require significant expenses. Therefore, many entrepreneurs choose a small storefront as their first step. Nevertheless, designing a small space for a store can present a unique set of challenges.
But does decorating a small space always have to result in a crowded feeling? Today, our senior designer will share some tips and tricks on how to make a small room look bigger. With the right design approach, a small space can be transformed to feel more expansive and open.
Tip 1: Bright and spacious storefront
The storefront and signage of any establishment, be it a restaurant, bubble tea shop, beauty store, or any other type of store, have a direct impact on the first impression it makes on consumers. Even if the interior space is limited, effective design can make the storefront look bright and spacious, drawing in more customers.

(Online source)
To achieve this, it is essential that the storefront be as wide as possible to avoid a cramped feel. When designing a small storefront, transparent glass doors and windows can be utilized to increase natural light and improve the overall perspective. The use of bright colors such as white, light blue, and yellow can also help to create a more inviting entrance space. Additionally, surrounding lighting can be employed to enhance the space's lighting and make it appear more open and spacious.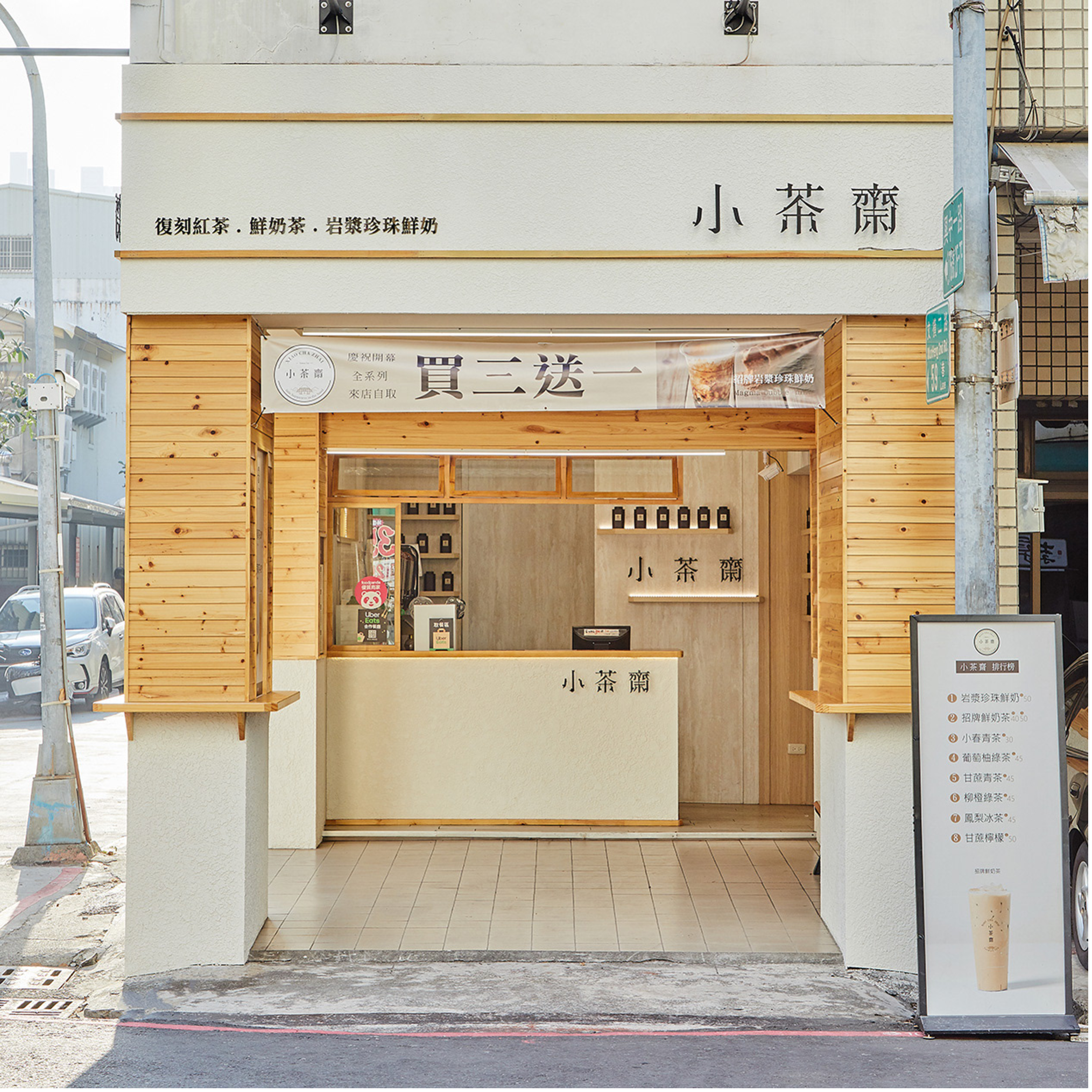 (Online source)
Tip 2: Well-Planned Layout Design
A well-planned layout design not only enhances customer comfort but also optimizes traffic flow, leading to increased purchasing power and higher average spending per customer. This requires thoughtful division of different areas within the store to maximize the use of space.
For instance, restaurant owners often assume that a larger dining area means they can accommodate more customers and earn more money, as long as the back kitchen has sufficient space for equipment and staff. However, a small kitchen area can significantly impact chefs' efficiency and result in a slower serving speed. If the dining area has too many customers while the kitchen cannot keep up, it can lead to lower customer satisfaction and a loss of business.

Waterloo Rice Noodle Renovation – Yunshang Rice Noodle
The spatial layout can also have a psychological impact on customers. For example, in a restaurant, the placement of tables and chairs can greatly affect the overall customer experience. Attention should be paid to the width between tables and chairs to ensure customers have enough space to move around. Additionally, servers need enough room to pick up food and clean, and individuals using wheelchairs or pushing baby strollers must be able to navigate through the space easily. It's essential to increase the utilization rate of dining seats, but it's also important not to overdo it by placing too many tables and chairs, which can compromise customer dining comfort.
Tip 3: Open the Way
By minimizing walls and embracing open design, a space can be visually integrated, creating the illusion of a larger room.
If partitioning is required, using perforated or transparent materials can be ideal. Moreover, utilizing a consistent color and material throughout the space can give the impression of a larger area. Furthermore, incorporating decor that is visually connected, such as floor-to-ceiling windows and open shelves, can enhance the connectivity of the space, thereby creating a more expansive atmosphere.


Toronto Pet Store Retail Design - Maokids
Tip 4: Use Soft, Light, Neutral Color
When it comes to small spaces, it's best to avoid overly complex styles that take up too much space. Instead, opt for a minimalist style with soft, light, neutral colors to create a sense of spaciousness. Limit the color palette to two or less and consider using natural wooden color for furniture and flooring to create a quality simple look.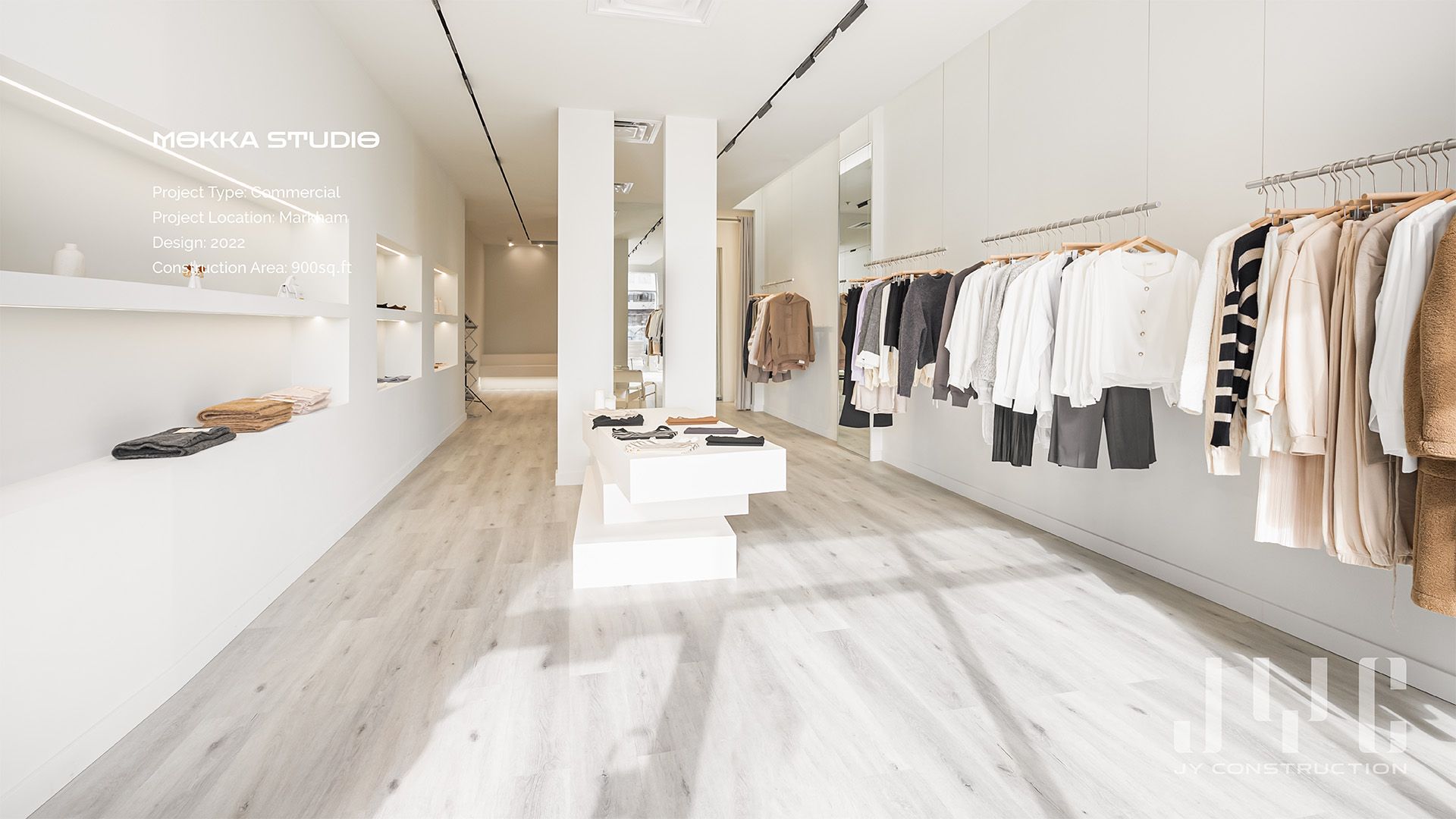 Markham Boutique Store Design — MOKKA STUDIO
Tip 5: A Well-lit Room Will Look Larger
In small spaces, there may not be enough room for excessive decoration, but lighting can play a crucial role in creating ambiance and enhancing the overall atmosphere. Consider the following lighting options:
• Pendant lights, a classic fixture for restaurants, can provide a central focus and enhance the space's decor.
• Wall lights can provide even lighting and decorative touches.
• LED wall washer creates a stunning effect by bathing the wall in light, similar to how water washes over a surface. This technique effectively highlights the contours of the wall, making it a popular choice for enhancing the ambiance of restaurants and creating a more three-dimensional feel to the space.
• Spotlights are akin to handheld flashlights and are a popular choice for illuminating restaurants. By creating stark contrasts of light and shadow, spotlights can produce visually stunning effects that evoke strong emotions.
• Plinth lights can illuminate the edges of the space and make the area appear more spacious.
• Background lights can create a romantic atmosphere and enhance the area's decor.
To create a warmer atmosphere, opt for a simple and stylish small pendant light with warm-colored lighting. Keep in mind that the distance between the pendant light and the dining table should be around 75-90cm.
By employing these techniques, you can optimize your space and create an inviting and visually pleasing atmosphere. JY Construction has a wealth of experience in commercial renovation and construction, having assisted many local bubble tea shops, restaurants, beauty boutiques, and small businesses in Toronto with tailor-made design and renovation services. We are committed to providing you with the most fitting commercial renovation & construction plan. If you have any queries, please don't hesitate to get in touch with us at any time.
#JY Construction Design
# commercial construction design
# Toronto construction design
# Toronto renovation
# Toronto space design
# lighting design
# wall design
# layout design
# facade design
# concierge design
# store design
# store layout design
# colour matching design
# small store design