A Complete Guide to Types of Canada Commercial Real Estate Loans
Having sufficient financial support can solve many fundamental problems for a startup, such as hiring staff, purchasing materials, business visual upgrades and real estate investments. However, not all start-ups are able to have this capital available at the beginning, which is why applying for a bank loan is how most people solve their capital problems.
Having one of the most closely related relationship with entrepreneurship, real estate can be used not only for investment, but also for renovation and re-sale for opening a milk tea store, hot pot restaurant and etc. Since most of these types of properties are commercial real estate, entrepreneurs will need to seek commercial real estate loans if they are short of funds.
In the next section, JY Construction will introduce more on the commercial real estate loans in Canada, including the different types of commercial real estate loan terms, and more details about loans.
What is commercial real estate?
All kinds of real estate may be categorized as commercial real estate, even residential real estate purchased for investment purposes can sometimes be categorized as commercial real estate.
Commercial real estate can basically be classified into three types:
Residential (1-4 units)
Residential (5 and more units)
Mixed residential-commercial
These are just a few types of the properties that fall into the commercial category, there are others that can also be classified as commercial property. The definition of commercial property is also closely related to the occupancy rate of the property.
Property Occupancy
A property can be occupied by either an owner or a separate tenant/investor.
When a property is classified as owner-occupied, this means that the owner is using the property for personal use only. However, this does not mean that the property is not a commercial property; if it is proven that 51% of the property's income comes from the business operated by the resident owner, then it automatically qualifies as a commercial property.
If it does not meet these thresholds, then it is not considered as a commercial property, but rather an owner-occupied property.
Therefore, the difference between a commercial property and an owner-occupied property lies on the level of income generation of the property. With more than or equals to 51% level of income generation, the building will be qualified as a commercial property, while anything below that level is an owner-occupied property.
For those properties that attract different forms of rental in return, most of those are always being utilized by the tenant as a cash flow driver.
There are also investment properties known as "refurbished pre-owned". These are the properties that were in a very poor condition when being bought, and are sold again to make a profit after completion of refurbishment and repair works.
What are commercial real estate loans?
A commercial real estate loan is a commercial mortgage loan secured by commercial real estate and used as collateral. Its borrowers are usually companies and businesses, not individuals.
Financial institutions that offer commercial real estate loans conduct a thorough analysis of the borrower's credit suitability and the interest rates are usually higher than that for residential real estate loans. In terms of mortgage approval, commercial properties take a longer time than residential properties; a typical commercial loan takes an average from 2 months to 12 months.
Types of Commercial Real Estate Loans
Most financial institutions offer seven different types of commercial real estate loan. We will be giving a brief overview of the features of each below so that you can get a clear idea of what type of loan you need: -
Purchase: As the name suggests, a purchase loan allows the holder to use borrowed funds to purchase commercial real estate. The property purchased is used to generate income, as it falls under the category of commercial property.
**Cash-out: **This type of commercial real estate loan or refinance involves taking out a previous mortgage and paying off the equity in the property, or it can simply cash out the equity in the property without the mortgage.
Refinancing: Refinancing involves the direct buyout of a loan belonging to one financial institution to another financial institution for reasons such as better interest rates and longer repayment terms.
Bridge: A bridge loan is a short-term loan that is used to fully finance a commercial property or until a long-term loan option becomes available. A bridge loan can be used to renovate a home or to do any improvement works.
Construction: This type of loan is used by commercial property owners or those who want to make near-term commercial investments to improve their business, build a property, or develop a property for purely speculative purposes.
Fix-and-Flip: This commercial real estate loan model is used by various investors to develop properties that are then sold at a profit. This type of loan is similar to a bridge loan because it covers the deficit incurred while waiting for a long-term loan.
Hard-money: These are loans that are associated with more established borrowers in the real estate industry. These types of loans might be approved without having to go through all the paperwork for obtaining a similar loan.
How long can you loan for commercial real estate?
The term of loans is one thing that make commercial loans differs from residential loans. Commercial loans have terms between 5 and 20 years and often come with longer amortization periods. Amortization works similarly to depreciation, except that it reduces the period of availability for the intangible asset.
In real estate, a typical borrower might get a commercial loan with a loan term of 8 years and an amortization period of 25 years.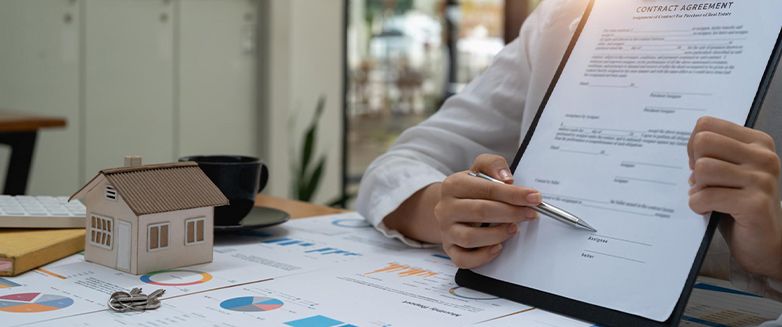 How much of a deposit do you need to purchase commercial real estate?
The amount of deposit you will need may vary from financier to financier; however, you can expect a range from 20% to 40% of the purchase amount. In general, deposits are always slightly higher for commercial real estate projects than for residential properties.
In Canada, commercial real estate loans are one of the most common ways to own a property in the real estate market. Even the demand for commercial real estate in Canada continues to soar, financial institutions have been keen to offer potential commercial mortgagees great incentives to become property owners through negotiated interest rates, flexible repayment terms, 90%+ loans, and more.
Whether it is a retail store, a restaurant, a bubble tea store, or a hot pot restaurant, having sufficient financial backing for start-ups to enhance their business in the early stages would certainly be the icing on the cake.
After reading the above article, we believe you have gained a better understanding on what commercial real estate is, the types of commercial real estate, and the types of commercial real estate loans. In the next article, we will introduce how to improve your approval chance for a commercial real estate loan.
#Commercial Construction
# Commercial Construction Loans
# Commercial Real Estate